January 2022

Hau'oli Makahiki Hou

Happy New Year to you.

Hope your weekend was filled with family time and the celebrating of a year well spent. We are all looking forward to a new year filled with new and continued adventures.

We at Kilauea Kreations want to wish you all a Happy New Year.

We want to be here to inspire and encourage you.

In 2022, may your creative spirit come alive
through quilting and sewing.





Our End of Year Clearance Sale is now our


"New Year Clearance Sale"





Buy 2 Yards Get 2 Yards 50% OFF



With 100 new bolts of fabric now on sale.

Join us this next week!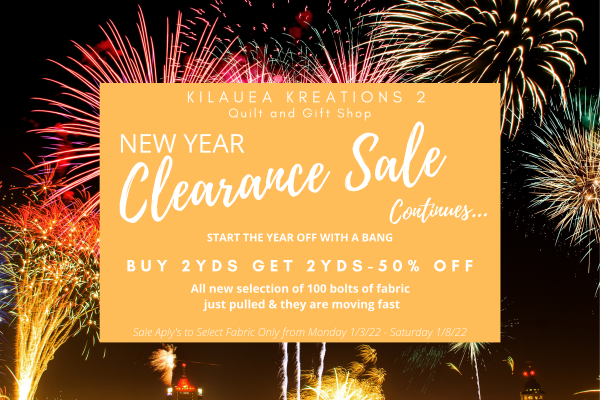 New Store Hours at Kilauea Kreations 2



Kilauea Kreations 2 - HILO


697 Manono street #101 Hilo, HI 96720


808-961-1100
Mon. 9:30am - 1:30pm
Tues, Thurs, Fri, & Sat 9:30am - 2:00pm
Wednesday 9:30am - 4:00pm


Kilauea Kreations 1-VOLCANO


19-3972 Volcano Road Volcano, HI 96785


808-967-8090

Sunday 9:00am - 1:00pm
Monday - Closed
Tuesday - Saturday 12:00pm - 4:00pm