Skip Navigation
Website Accessibility
Featured Aloha Box Project of the Day...

October 2023
Hi Friends!

Today I wanted to feature one of the Aloha Box Options...
our beautiful Bed Runner
What this runner does to a room is truly magical!
You feel like you are in Hawaii!
With it's beautiful red and cool blues it reminds me of looking out on to the ocean during our recent sunsets on the west side of the island. Seriously the sunsets have been just so mind blowing beautiful and the colors so rich! Just like this runner. And look how good you can make a bed look with just a runner. You can get this quilt done in a jiffy!
The box kit comes with all the fabric you need!

Jump in today before the window closes.

We will close all pre-sales on Friday, October 27.

Don't delay!



Click Here Today to treat yourself to
Your Aloha Box!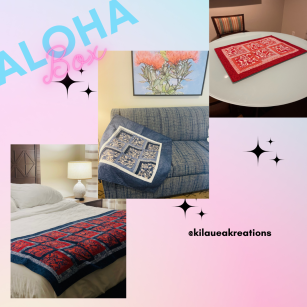 "Aloha Box"



It's coming to you very soon!



It's a box filled with items we know you will love.

Kilauea Kreations 2 - HILO
697 Manono street #101 Hilo, HI 96720
808-961-1100
Monday - Thursday 9:30am - 4:00pm
Friday & Saturday 9:30am - 3:00pm
Sunday Closed


Kilauea Kreations 1-VOLCANO
19-3972 Volcano Road Volcano, HI 96785
808-967-8090
Monday CLOSED
Tuesday -Saturday 10:00am - 4:00pm
Sunday 10:00am - 2:00pm