Aloha Friends,

We are mid-week Merrie Monarch.




And here in Hilo, Hawaii we are truly enjoying all the festivities all around town. From fashion shows, to non stop Hawaiian music and hula everywhere you go, to every person you see wearing their Merrie Monarch best with flowers in the hair to hand crafted hats on the head, to a craft fair around every corner...
nothing beats this time of the year for us here in Hilo, Hawai'i!


Want to experience a little bit of Aloha too?


You need an Aloha Box!




If you havn't already pre-ordered your Aloha Box...

You should click this link and get your box today!



You can also find a little bit of Aloha at Kilauea Kreations 2
when you stop in and buy some of our very own Hawaiian Printed Fabric and receive 20% off!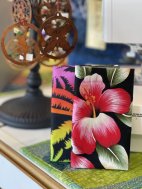 Sale ends this Saturday!


Kilauea Kreations 2 in the Manono Market Place.


See you soon!